Highlights:
Faster cutting and engraving of materials
Deeper and cleaner cuts
Better laser beam quality for more crisp cutting or engraving
Up to 10,000-hour life span
High power and high stability
Water cooled for best performance
Lasers from GSI group technology, which is well known for making high quality and long-lasting CO2 laser tubes.
Details about Co2 laser tube
The laser tube is the heart of a laser machine which plays a decisive role in laser cutting performance.
How to choose the co2 laser tube?
Laser tube length and diameter is the key point to get the suitable tube for your laser cutter.
here is the regular size information:
40w L700mm    D50mm;
50w L1000mm  D50mm;
60w L 1250mm  D55mm;
80w L1250mm   D80mm or L1600mm D80mm;
100w L1450mm  D80mm;
130w L1650mm  D80mm;
150w 1850mm    D80mm;
NOTE:
1.Different manufacturers the length and diameter are different.
2. Power Stability 3. Beam quality(M2) 1-1.5 4. Laser frequency Co2 laser tube frequency within 5000Hz.
Daily maintenance
 1.Must keep circulating water clean. If you find water becomes dirty, you must replace cooling water. And the cooling water must not be too cold or too hot. Because the laser tube is easy to be broken. It is better to keep the cooling water temperature between 18 to 25 degrees. The water temperature exceeds 30 degrees, the effect will gradually decrease the laser power. Laser tube cooling water should not have bubbles.  
2. Laser tube with sediment for a long time, it is better to remove the laser tube and clean it, then install again.  
3.Keep mirrors and lens clearly. If you use a laser machine in a very terrible environment, need professionals to use alcohol to wipe the lens.
4.According to different laser power to set current. If the current is too high,it will shorten the service life of the laser tube.  Maintain your CO2 laser tube well can not only protect the laser cutting machine but also help you improve the working efficiency. So just pay attention to learn it.
Parameters Chart:
Reci :
| | | | | |
| --- | --- | --- | --- | --- |
| Model | Power | Length(mm) | Diameter(mm) | Application |
| W1 | 75-90W | 1110 | 80 | Engraving/half-cutting |
| W2 | 90-100W | 1200 | 80 | Engraving/cutting |
| W4 | 100-130W | 1400 | 80 | Engraving/cutting |
| W6 | 130-160W | 1650 | 80 | Cutting |
| W8 | 150-180W | 1850 | 90 | Cutting |
| T1 | 75-90W | 1110 | 65 | Engraving/half-cutting |
| T2 | 90-100W | 1250 | 65 | Engraving/cutting |
| T4 | 100-130W | 1400 | 65 | Engraving/cutting |
| T6 | 130-160W | 1650 | 65 | Cutting |
YL :
| | | | | |
| --- | --- | --- | --- | --- |
| Model | Power | Length(mm) | Diameter(mm) | Application |
| A0s | 28-35W | 600 | 80 | Engraving |
| A1s | 70-90W | 1100 | 80 | Engraving/half-cutting |
| A2s | 90-100W | 1250 | 80 | Engraving/cutting |
| A4s | 100-130W | 1450 | 80 | Engraving/cutting |
| A6s | 130-160W | 1650 | 80 | Cutting |
| A8s | 150-180W | 1850 | 80 | Cutting |
EFR :
| | | | | |
| --- | --- | --- | --- | --- |
| Model | Power | Length(mm) | Diameter(mm) | Application |
| 700CL | 35-40w | 700 | 50 | Engraving/half-cutting |
| 800CL | 40-50w | 800 | 50 | Engraving/half-cutting |
| 1000CL | 50-60w | 1000 | 50 | Engraving/half-cutting |
| 1200CL | 60-70W | 1200 | 50 | Engraving/half-cutting |
| 1600CL | 80-95W | 1600 | 60 | Engraving/cutting |
| F2 | 90-100W | 1250 | 80 | Engraving/cutting |
| F4 | 100-130W | 1450 | 80 | Engraving/cutting |
| F6 | 130-160W | 1650 | 80 | Cutting |
| F8 | 150-180W | 1850 | 80 | Cutting |
SPT :
| | | | | |
| --- | --- | --- | --- | --- |
| Model | Power | Length(mm) | Diameter(mm) | Application |
| TR30 | 30-40w | 730 | 50 | Engraving/half-cutting |
| TR40 | 40-50w | 830 | 80 | Engraving/half-cutting |
| TR45 | 50-60w | 880 | 50 | Engraving/half-cutting |
| TR75 | 60-70W | 1080 | 80 | Engraving/half-cutting |
| TR90 | 90-100W | 1280 | 80 | Engraving/cutting |
| TR100 | 100-130W | 1480 | 80 | Engraving/cutting |
| TR130 | 130-150W | 1680 | 80 | Engraving/cutting |
| TR150 | 150-180W | 1880 | 80 | Cutting |
Weeson :
| | | | | |
| --- | --- | --- | --- | --- |
| Model | Power | Length(mm) | Diameter(mm) | Application |
| 1250T7 | 90-110w | 1250 | 80/60 | Engraving/cutting |
| 1300T7 | 90-115w | 1330 | 80/60 | Engraving/cutting |
| 1400T7 | 110-125w | 1450 | 80/60 | Engraving/cutting |
| 1600S7 | 120-135W | 1600 | 80/60 | Engraving/cutting |
| 1600F7 | 130-155W | 1650 | 80/60 | Cutting |
| 1700H7 | 140-170W | 1780 | 80/60 | Cutting |
| 1800W7 | 150-18W | 1850 | 80/60 | Cutting |
| 1800U7 | 160-180W | 1880 | 100/80/60 | Cutting |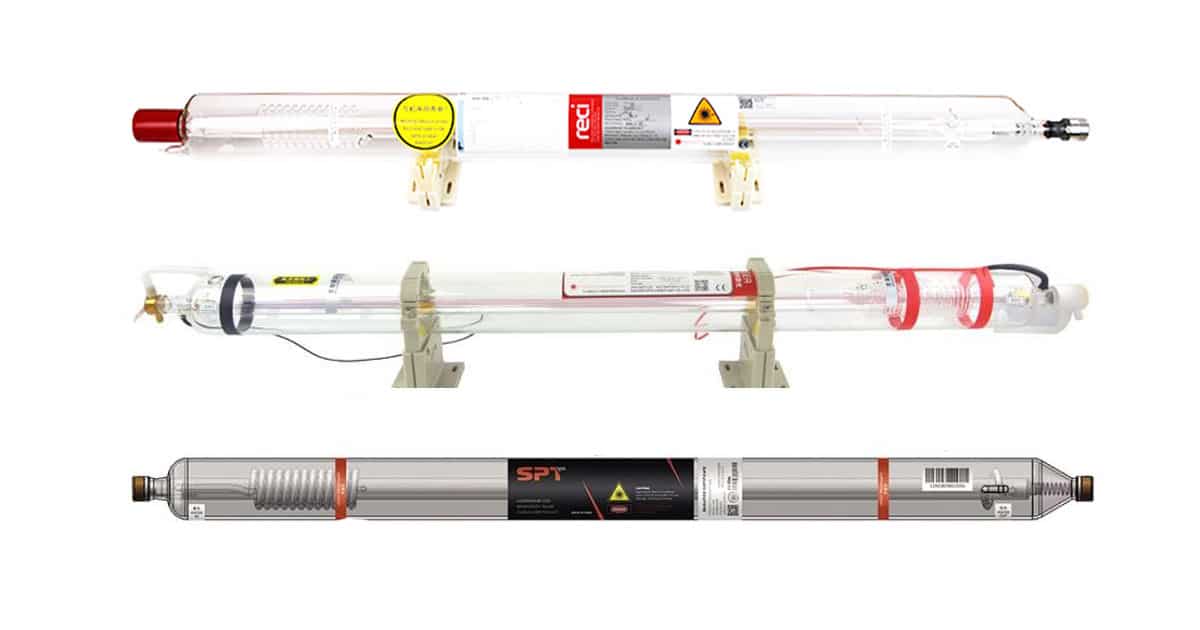 Share Co2 laser tubeWith Your Clients