Lasers Services
&products
We're Focusing on fiber laser technology development, and we are a high-tech enterprise with the core technology of fiber laser. The company's core team has nearly ten years of experience in well-known laser companies and research institutes. It has successfully developed a series of continuous and pulsed fiber lasers and brought them to the market, highly recognized by customers. The company specializes in fiber laser repair and RAYCUS fiber lasers SPI fiber lasers and provides professional solutions. Wewin laser provides professional repair services for imported fiber lasers (IPG/SPI) and is a professional fiber laser repairer nationwide. Here are our advantages as follows.
Upgrading Bystronic CO2 Machine to Fiber Laser Cutting Machine
Main features of the upgraded fiber laser cutting machine
Innovative fiber lasers can achieve unprecedented efficiency and precision in cutting thin metal sheets.
High-tech fiber technology combined with sophisticated mechanical systems Fiber laser energy is high in energy efficiency, high in output, easy to operate, more economical and environmentally friendly.
Machine structure after upgrade
High-speed stable gantry structure, open operating space
The most convenient access to the machine working area
No need for clamping, automatic edge finding, automatic positioning, fast order processing.
High quality, long-term stability and reliability, minimum maintenance.
After the upgrade the drive system
AC servo disc motor is directly driven, no intermediate gearbox, high momentum, low inertia.
High dynamic performance (acceleration), high precision, long-term stability and reliability.
Closed drive system, centralized lubrication for long-term protection.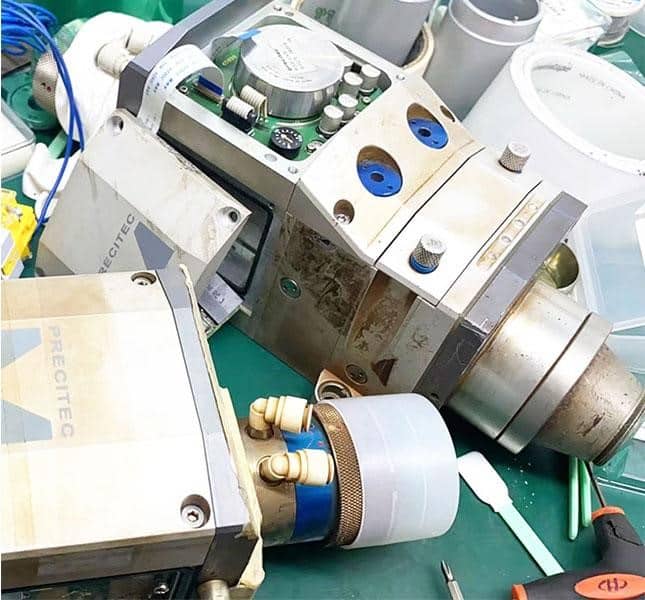 Laser Cutting Head Maintaining
We have Professional Team to repair laser cutting machines, repair fiber laser cutting heads, such as Raytools®, WSX®, Precitrec®, and other fiber cutting head collimators, focusing lens, protective lenses replacement, capacitance sensor repair.
Sales of various brands of laser equipment consumables products sell well in the consumer market, and several retailers and agents at home and abroad to establish long-term stable relations of cooperation.
Laser consumables included: Raytools® cutting head, WSX® cutting head, height adjuster, Precitec® capacitance sensor, fiber laser optics such as focusing lenses, collimating lenses, Protective Windows / Debris Shields & Lens, laser nozzle, ceramic ring, Sensor Cable Wire, dust cover, solenoid valve, proportional valve, air filter, water filter, cleaning cotton swab, lens paper, antifreeze, and other laser accessories.